A firewall is one of the most important and standard devices in any company's network security setup. The next firewall Fortigate Firewall is a smart firewall, which is capable of threat protection against modern threats and it is fully programmable. A Fortinet/Fortigate next-generation firewall delivers high quality against contemporary threats and cyber attacks in the company's complex networks.
What is Next Generation Fortinet Firewall:
Fortinet/Fortigate Next-generation firewalls provide the leading enterprise infrastructure network security for any edge level and instant protection over any scale with full protection against threats. Its business-to-business network protection gives a deep drive into the hybrid IT architecture and security system networks drive to achieve:
• Ultra-fast, end-to-end security
• Consistent work over the real-time defense with FortiGuard Application Control Service
• Excellent level of user experience with network security processing units
• Operational efficiency and automated workflow
Benefits of Next-generation firewall: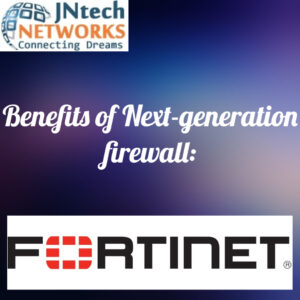 A next-generation firewall is also known as the second-generation firewall, it protects the company's networks with the help of high-end features. It does the deep packet flow inspection, intrusion
prevention, Advance malware protection, Application protection using FortiGuard Application Control Service, and Overall traffic inspection through encrypted traffic. This malware and threats can be found anywhere in the network to its internal boundaries, and can also be applied to a public or private cloud environment.
There are three main benefits of choosing the next generation Fortinet firewall:
1. Power and Performance
2. Deep and Comprehensive Visibility Beyond the Application
3. Automation, Deep Inspection, and AI
Fortinet is now available with the AI /ML Powered Next-generation security to secure the enterprise's networks. Fortinet continues to make the next-generation firewall, providing broad, automated, and powerful capabilities. To provide high-end protection, and malware doesn't slip into your business networks through the encrypted traffic, the FortiGate devices provide the high-performance reliable inspection of the same. The FortiGate device delivers performance-intensive tests for deep inspection SSL and threat protection.
How Effective is the new in FortiOS 7.2?
Fortier 7.2 is available with new and advanced features and enhancements. IT delivers a powerful combination of Artificial Intelligence-driven actionable intelligence, SOC and NOC process automation, and online prevention of harmful and unknown attacks.
New FortiOS 7.2 is available in Next-Generation Firewall with:
• It is available with HTTP/3 support: It inspects the HTTP/3 and QUIC, which provide better visibility, and advanced protection and fully supports the emerging standards in the technology.
• It is available with the Unified policy: The meaning of Unified firewall policy configuration is that all policies are unified in a single place, included with ZTNA.
• It is also available with the segSaaS application: This allows inline CASB protection for SaaS applications of SaaS.
FortiGate Next-Generation Firewall is available in different-different models to fulfill your needs which range from entry-level hardware devices to ultra-high-end devices to meet the most demanding threat protection against the performance requirements. To ensure about the enterprise infrastructure, data centers, and internal networks, FortiGate can fit easily into the environment.
Securing Business-to-Business Environments:
The Business to business networks is very valuable within the financial services network environments. These networks are also highly vulnerable to cyber-attacks. One of the most important reasons is that these business networks are badly unprotected. Some companies use a simple firewall that is incapable to work on this business network and most of them have VPN technology. If we talk about the performance of the network, it is paramount and it is often seen as the passage through a narrow path; so these networks are often secured by using simple network devices like router ACLs (RACLs) and NAT.
With the increase in the global digital businesses, the global transitions are impacting the businesses, these networks become more complex and need to maintain the users, network devices, the flow of traffic, and the online applications which are becoming more complex and encryptions become more secure and not easily deeply inspected. These businesses use many financial services, which are moving their networks into co-location security systems and these interconnections with multiple businesses and partners. Not only this, the network environment gets highly distributed and the distributed system is that much open that it can be attacked by several cybercriminals, and data can be hacked and can be used in the wrong way. The highly secured data can be leaked to hackers.
Instant Response of the Fortinet Firewall over the Cyber Attacks:
The Next Generation FortiGate firewall is a smarter firewall, which instantly works over these cyberattacks and blocks the pathways instantly without bearing any loss to the data.
Network Security jobs are available globally. The salary packages of the network security engineer are high compared to the normal network engineer. There are several firewalls in the network security technology like Fortinet, Palo Alto, Sophos, Checkpoint, FTD, Gogamon, and many more. But one of the most advanced firewalls among these is Fortinet and the salary packages of Fortinet are also high as compared to the others.
The functions of the Fortinet firewall are roughly more than 3 times faster than the average firewall, which makes you confident in your work due to its most advanced Artificial Intelligence feature, it prevents known and unknown threats 3 times faster as compared to a normally used firewall. That means a network engineer using this firewall feels highly safe after using this technology and is confident About its work.
Salary Packages of the Fortinet Firewall Engineers:
I already told you that the salary packages of the Fortinet certified engineers are high as compared to the other firewalls because it is a new technology and companies are adopting it. As a general survey, 15% of B2B businesses use the Fortinet firewall. This is a huge number of users worldwide. That's why salary packages and several jobs are high in the same domain. The average salary package of the Fortinet firewall experts is USD 67,182 and according to the top-rated salaries and the job opportunities in Fortinet/Fortigate are as follows:
1. Principal Software Architect: Approx USD 140,000
2. Cloud Engineer: Approx USD 120,000
3. Senior Network Engineer: Approx USD 116,000
4. Cloud Consultant: Approx USD 115,000
5. System Engineer: Approx USD 107,500
6. Security Engineer: Approx USD 107,000
7. Channel Manager: Approx USD 102,000
8. IT Engineer: Approx USD 80,000
9. Network Engineer: Approx USD 80,000
10. Data Specialist: Approx USD 45 80,000
The unique approach and the smart vision, make Fortinet the only company to perform extraordinary at all key stages of network security. In a virtual scenario, every company claims that they can detect the threats in the network system. Still, in a real scenario, less than 50% of the companies are performing at a level and able to solve the problems in effective wats that they can save your important data without the serious damage. But if we talk about Fortinet, it is performing extraordinary at all stages.
Importance of the FortiGate Certifications:
There are 8 different certifications provided by Fortinet, these certifications have different values and these have different domains to work over with. These certifications are globally accepted and some companies strictly follow the certification for the employees. These certifications deal with network security in different domains. These certifications are as follows:
1. NSE 1, NSE 2, and NSE 3 Certifications, and why these are needed?
NSE 1, NSE 2, and NSE 3 certifications are well focused on developing a fundamental understanding of cyber threats and it is made from the perspective of the key executive roles of the firewall engineers. Moreover, it also validates your skill that how executive engineers can be safer in their internet environment by following the safety guidelines.
2. What is NSE 4 Certification? And why NSE 4 training and certification is important?
The NSE 4 certification validates your skills in deploying and maintaining the next-generation Fortinet firewall. As we know that Fortinet is a next-generation firewall. It is fully programmable and smart and the advanced firewall uses artificial intelligence parameters to prevent threats and malware to enter the system. Generally, the companies need the NSE 4 certified engineers the most. If you pick up the data, you will find that NSE 4 Fortinet certified engineers' jobs are high as compared to NSE 5, NSE 6, and NSE 7.
Not only the certified candidates but also the network engineers who have good knowledge of Fortinet is also working at a good salary after doing the same. Knowledge is really important in the IT Field. If you know firewall maintenance and deployment, you can easily get a job in the same. How do you get the knowledge? If you are new to Fortinet, you must be a part of the training provided by the reputed institution for Fortinet. This is because a well-experienced trainer can give you the best advice on not only the configuration, deployment, or maintenance of the firewall but also the troubleshooting of the various problems in the network security field.
To get a job in the network security domain, you must have done the practices over the firewall devices and peripheral networks. There are several jobs available in the market for the same. And these days, job opportunities in the network security domain like Network Security Engineer, Firewall Engineer, and Network Support Engineer in Fortinet are increasing with the expansion of firewall technology from business to business.
Note: NSE 4 training classes are available at JNtech Networks, online as well as offline. It is one of the most reputed institutions for network security training.
3. What is NSE 5 Certification? And why Fortimanage and FortiAnalyzer NSE 5 training and certification is important?
Fortimanager and Fortianalyzer are the most important tools of Fortigate security. Within NSE 5 certification, you will validate your skills in managing and analyzing the thousands of FortiGate devices on a single platform. Like in the case of fort manager, it is a tool that is used to manage the activities of the thousands of Fortinet firewalls on a single platform. The Fortianalyzer is the tool used to analyze the thousands of Fortinet devices in a single tool.
Note: For the Fortinet NSE 5 Certification, you can also choose the JNtech Networks for the best training. We are having 12 years experience as experts who can provide the best training classes for the same.
4. What is NSE 6 Certification? And why Network Security Specialist NSE 6 training and certification is important?
NSE 6 certification validates your skills for the Network Security Specialist designation which recognizes your skills and ability to work over the Secure Fabric products that go beyond the firewall.
5. What is NSE 7 Certification? And why Network Security Architect NSE 7 training and certification is important?
NSE 7 Network Security Architect training is designed for the NSE 7 Certification, which is designated for the Network Security Architect designation. It recognizes the skills of maintaining, deploying, administrating, and troubleshooting Fortinet security problems.
Note: For the Fortinet NSE 7 Training and Certification, you can choose the JNtech Networks. We are having 12 years of experience as experts in the NSE 7 Training classes.
Online Classes for NSE 1, NSE 2, NSE 3, NSE 4, NSE 5, and NSE 7 Fortinet training at JNtech Networks:
JNtech Networks is one of the most popular networking training institutions. We are especially known for the network security classes for Fortinet, Palo Alto, Checkpoint, Cisco ASA, FTD, F5 Loadbalancer, CCNA, CCNP Security, CCIE Security, CCNP Enterprise, and CCIE Enterprise. We are having 12 years of experience as trainers for online as well as offline classes. The training was conducted on the simulators like GNS and Packet tracer. We taught more than 5000 students globally every year.
For more details about the Institution, please contact on the link and number below:
Website: https://www.jntechnetworks.com
Call/Whatsapp: +917042947410