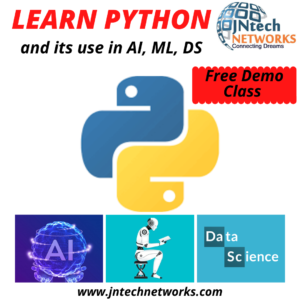 JNtech Networks is the best Python Training Institute. Python is a top-level, interpreted, interactive, and OOPS language. It was developed to be highly accessible, readable, utilize English keywords while further languages use punctuation and it has fewer syntactical making than further languages. It utilizes high-end which is designing crucial programming, computational tasks, and constructing data analysis solutions. Python Training provides quick to learn and easy to understand if you have enrolled in the JNtech NETWORKS training program.
Although, delightful lab practice and proper Python training are required to get easy with Python complexities. It is not industry-specific, which means it is required in every sector in the industry be it manufacturing, retail & marketing, sales & services, and IT industry. We also name it a task-specific programming language. Candidates after completing online python training institute have an exciting career as programmers, developers or engineers while drawing a lot of attention, respect, and becoming an important expert on big projects.
Is Python easy to learn for beginners?
Easy syntax and a brief of code make python an easy language to acknowledge and learn. With appropriate training and guidance, attentive and diligent candidates can become professionals in this programming language. If we compared to Python, learning JAVA or C++ is highly tough and takes a long time, because of their complicated and long code structure. Learning a python course in Noida would be perfect for beginners.
Why do you need to learn Python?
It is very easy and simple to know the code language. Most of the high paid jobs provide open up for individuals well versed in Python. It is the topmost language for the latest technological innovations like Artificial Intelligence, Web Development, Robotics, DevOps, etc. It is the all premier, highly understandable, and powerfully equipped open-source and semantic language. The Best Python training institute is extremely refined and better for your future endeavors.
It is customer friendly and has libraries for various main tasks like data importing, analysis, filtering, and manipulation. It has properly built its place in the field of scientific programming. Customers also find their utility in highly quantitative fields like physics, financial market, gas and oil, signal, etc.
What can students expect of our Python Training Institute in Noida?
Learn Python Programming cherishes candidates with world-class training modules for Python, at the location of Noida. JNtech NETWORKS have employed professionals in the field as trainers who build applications frequently. Students have huge knowledge about core scripting elements, flow scripting structures, how to effectively work with data, lists, Data Science. Numerous python modules like NumPy, scipy, pandas, xlrd, JSON; CSV, which are utilized for data manipulation.
We are ready to teach our dear candidate to install external modules and how to use built-in functions. The candidate who wishes to join our institution should have prior knowledge of Linux, Windows, and Mac OS to run Python code effectively. Our python training course fee is really low when compared to our competitors. So, stop delaying and join Learn Python Training institute for the best training experience.
Summary
Python's dignified syntax and dynamic typing together with its interpreted nature make it an ideal language for scripting and fast application development in many areas on different platforms. It supports modules and packages, which motivate program modularity and code reuse.
The extensive standard library and python interpreter are within reach in source or binary form without charge for all key platforms and can be freely distributed. Study Python does not require any prerequisites. However one should have a basic knowledge of computer programming languages. The basic knowledge of any of the programming languages is an advantage.
JNtech NETWORKS provides a fast-track and best python training institute to the individuals running out of time or who want to complete the course within a lesser possible time.