CCNA ENTERPRISE INFRASTRUCTURE / R&S
Why choose JNtech Networks for CISCO CCNA ENTERPRISE INFRASTRUCTURE?
New CCNA 200-301 (Enterprise Infrastructure/R&S)
CCNA (Cisco Certified Network Associate) certification is one of the most demanding and popular IT certification in the world. It is known as an associate level of Cisco career certification. The training course suits those candidates who want to start their career in the networking industry as entry-level professional. New CCNA 200-301 is a single exam of 120 Questions, will covers the basic concepts of enterprise networking, including Network Fundamentals, IP Connectivity, IP Services, Security Fundamentals, Network Access and Automation and Programming. New CCNA certified professionals can easily deploy, configure, manage and troubleshoot small and medium-sized enterprise networks.
JNtech Networks is a team of network engineers, experts and specialist who have long years of working experience in IT industry. Our trainers not only offer the best CCNA training, but they make sure their students will stay relevant with required skill sets that are required for adaptation for the new generation and advanced technology.
We strictly follow the Cisco exam syllabus pattern for the CCNA exam, so we designed our training program based on Bootcamp training modules. We know the value of a successful networking career start with New CCNA certification.
JNtech Networks is the best CCNA training institute in India. Aspirants get real Cisco devices for CCNA course training. Real routers and switches, CCIE certified trainers, 24*7 physical and online lab training facility, virtual racks online, smart classrooms, multiple time training facilities, and lowest prices guarantee are USP of our training center.
Start your career path as an IT Professionals with CCNA online training
Networking is the basis of the IT company and latest technologies, and Cisco is the undoubted world leader in routing and switching software and hardware. As the experts, you will be solid pressed to spend your whole career never having touched Cisco tools. 
Cisco online training is a plan for networking specialists who are looking to enhance their value and assume higher levels of responsibility. It not only supports expertise making and maintaining Cisco networks. It is also important for core networking expertise and knowledge. For this reason, it is also called the gold standard for networking training.
The CCNA is a quite difficult test, but it is not impossible. With our professional guidance from top-rated instructors, you can excel in every section of the CCNA. Whether you require assistance knowledge LAN switching and routing, or advice on mastering the fundamentals of networking, JNtech Networks has a beginner-friendly course to help you.
What's new in the CCNA course?
The valuable update was regarding examination, that is you do not require to give two exams anymore. You require to permit only one exam to get your apparent CCNA course. Few major changes with regards to technicality were the development of security, automation, and programmability. To make understanding of these topics easy JNtech Networks themselves have designed the latest syllabus that covers the latest pattern and updates on the ever-new CCNA. 
We now give more high-level in-hand training with regards to network fundamentals, network access, IP services, security fundamentals, IP connectivity, automation, and programmability. With the latest course syllabus, we provide the whole focus to offer you the top networking career in a very new direction that Cisco has put forward.
Best CCNA Certification course
The Cisco Training assists candidates to learn in-depth about managing networks. After the successful completion of the CCNA Certification Course, the candidates would have learned about the basics of the advanced concept of CCNA. The online CCNA Certification Training teaches the candidates how to implement IP addressing schemes, describe data networks operation, solve networking challenges, and know about the 7 networking layers. Our online CCNA Course is highly important for system engineers, network administrators, field technicians, and help desk specialists. 
Why JNtech Networks?
JNtech Networks' combined learning model conducts classroom learning experience online with its world-class LMS. It blends professional-led training, self-paced learning, and personalized mentoring to provide an immersive learning experience. In our Cisco online training, we cover how to configure and verify VLANs and switches, understanding IPv4 and IPv5 addresses, deal with various IP services, how to connect and configure a router based on routing requirements establish and maintain security features, troubleshooting and resolving problems, and identify and configure various WAN technologies. Our online CCNA course is the full course that has been designed to break down complex concepts and make ready you completely for the certification exam. 
Instructor Led training/Online training
As per candidate schedule
Training Schedule For CCNA Course (Regular)
Training Schedule For CCNA Course (Weekend)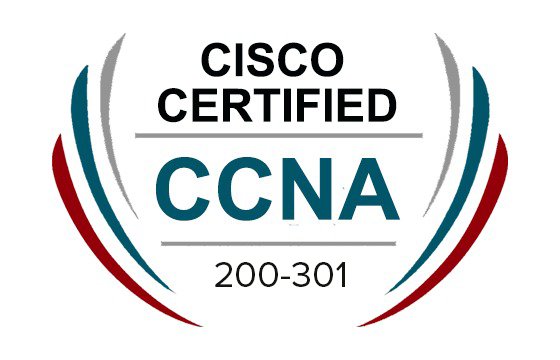 New CCNA Certification Exams:
To be certified in Cisco Certified Network Associate you need to pass the following exams:
New CCNA Certification Course Outline / Syllabus (200 – 301 Exam)
Describing the role and function of network components (Routers, L2 and L3 switches, Next-generation firewalls and Servers).

Describing the Characteristics of network topology architectures (2 tier, 3 tier, Spine-leaf, WAN, SOHO, On-premises, and cloud).

Configuring and verifying IPv4 addressing and subnetting, IPv6 addressing and prefix and describing some wireless principles like Non-overlapping Wi-Fi channels, SSID, RF, Encryption.

Comparing physical interface and cabling types along with Identification to interface and cable issues like collisions, errors, mismatch duplex, and/or speed.

Verifying IP parameters for Client OS (Windows, Mac OS, and Linux) and explaining virtualization fundamentals and some switching concepts.

Configuring and Verifying Layer 2/Layer 3 discovery protocols and Ether Channel (LACP) and describing AP and WLC management access connections (Telnet, SSH, HTTP, HTTPS, Console, and TACACS+/RADIUS).

Introduction to components of WLAN (AP, WLC, access/trunk ports, and LAG): Getting familiar with WLAN creation, security settings, QoS profiles, and advanced WLAN settings.

Understanding, configuring and troubleshooting routing protocols for IPV4 and IPV6. Topics like OSPFv2 (single-area), Routing protocol metric and components of routing table are covered.

Understanding, configuring and troubleshooting layer 3 protocols like Frame Relay, HDLC, PPP, NAT, etc.

Introduction to MPLS and forwarding per-hop behavior (PHB) for QoS such as classification, marking, queuing, congestion, policing, shaping. Understanding IP services like DHCP, DNS, SNMP, Netflow, FHRP, TFTP/FTP, and NTP.

Defining and describing key security concepts, security program elements and some wireless security protocols (WPA, WPA2, and WPA3).

Understanding, configuring and troubleshooting layer 2 security features DHCP snooping, dynamic ARP inspection, and port security & layer 3 security that is ACL (standard, extended, named), SSH and Secret password.

Understanding how automation impacts network management and learn about Controller-based networking and its architecture.

Learn the characteristics of REST-based APIs (CRUD, HTTP verbs, and data encoding) and recognizing the capabilities of configuration management mechanisms Puppet, Chef, and Ansible.
Available Training Mode
:- Classroom Training & Virtual Training

New CCNA 200-301 Certification Exam Details

New CCNA Certification Exam:
Implementing and Administering Cisco Solutions (CCNA). Exam code for this all new CCNA Exam is 200-301. This exam will go live from 24th February 2020.
Fee for CCNA certification composite exam is 354 USD and passing marks required are 825 out of 1000. CCNA exam is conducted online in Pearson Vue testing centers.
There are around 55 Questions in most recent CCNA Online Exam, out of which there are 3-4 simulations and around 50-52 Multiple choice questions. You can't hazard your test by falling in any simulation, so ensure you set up the practical part truly well.To break CCNA certification exam in first attempt applicant need to rehearse at any rate for 3-4 hours every day during classes. On the off chance that you are thinking about How to finish your CCNA Certification Exam, here are not many tips to breeze through CCNA Online Exam in first attempt:
Ensure you concentrate every subject recorded in CCNA Syllabus Blueprint intelligently.

Practice every Technology on genuine Cisco devices.

Avoid Simulators. Learn innovation on genuine devices.

Test your knowledge on simulation based exams available on internet.

Work on Subnetting truly well. It ought to be on your tips.

Make exceptional yet coherent situations utilizing numerous Routing and Switching conventions in a solitary practical, and afterward configure them.

Never get Nervous.
Simply follow these tips and we wager you can pass your New CCNA Certification test in the First Attempt.